Baking around the world: Germany – Apple Strudel and German Double Chocolate Cake
Class Date:
September 23, 2023
Event Location:
Antsy Nancy
Learn to bake these two delicious desserts! The dynamic duo of Apple Strudel and German Double-Chocolate Cake is a surefire compliment to any meal and an especially spectacular ending to an Oktoberfest dinner.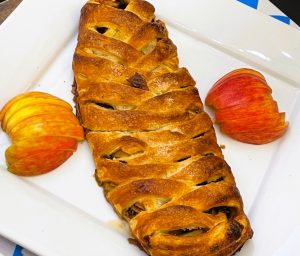 Event Timelines
What you will learn
Students will make the cake, frosting, and filling for German Double-Chocolate cake from scratch before assembling and decorating a 6-inch, double layer cake. While our cakes bake and cool, students will make apple strudel filling and learn how to cut and wrap pastry dough with ease.
What to expect
Upon check-in, students are provided aprons and storage for personal items before visiting the handwashing station. Students will be seated in a thoroughly cleaned and sanitized workspace and given seating request preference, when available. Tools and materials will be distributed before instructor takes the class step-by-step through the successful recipe execution. Each student will take home both a cake and strudel in pastry boxes.