Private event for Davis Monthan Spouses Group.
When life gives you lemons, make Limoncello! We will provide you with the instructions and materials to make homemade Limoncello, along with an all-star cocktail demonstration and tasting of Limoncello Spritz. Each attendee will customize a glass decanter and 2 wine glasses with glass etching.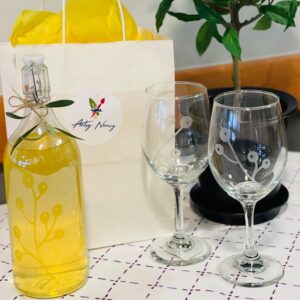 Event Timelines
What you will learn
Attendees will learn tried and tested recipe for making delicious limoncello. In addition, we will teach students how to etch, using stencils and etching cream.
What to expect
Upon check-in, students are provided aprons and storage for personal items before visiting the handwashing station. Students will be seated in a thoroughly cleaned and sanitized workspace and given seating request preference, when available. Tools and materials will be distributed before instructor takes the class step-by-step through the processes for both limoncello making and glass etching.