Private Halloween arts & crafts event for DMSC members. Attendees will sand, stain or paint, and build adorable pumpkin luminaries.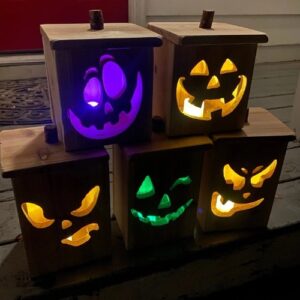 Students 21+ years are welcome to bring their own wine, champagne, beer, etc. to enjoy during class. Please see our BYOB policy for more details.
Event Timelines
What you will learn
We'll focus on woodworking basics in this class, inlcuding sanding, wood glue, stain, primer, and paint.
What to expect
Upon check-in, students are provided aprons and storage for personal items before visiting the handwashing station. Students will be seated in a thoroughly cleaned and sanitized workspace and given seating request preference, when available. Tools and materials will be distributed before instructor takes the class step-by-step through the successful project execution.