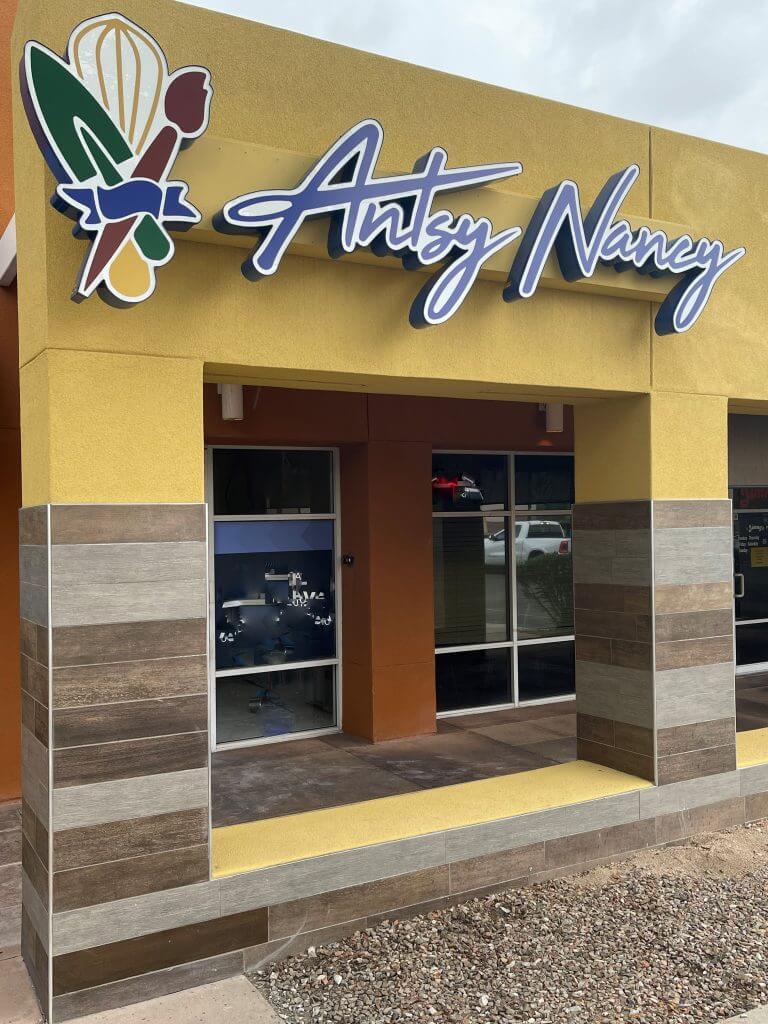 A new business is opening in October in the prominent River Center Shopping Center at 5655 E River Rd., Ste. 101, just across from Whole Foods Market. Antsy Nancy will teach in-person and online classes in Arts & Crafts, Cooking & Entertaining, Gardening & Landscaping, Health, Wellness, & Beauty, Holiday Projects, and Home Decorating.
Founder and CEO Heidi Yribar said her master classes are designed for beginners. Antsy Nancy will provide all the expert instruction, tools and materials needed to enable successful project execution. "I want every student to leave class with a new skillset and a finished product they're excited to share with family and friends."
Upcoming classes listed at www.antsy-nancy.com include How to Grow an Indoor Herb Garden, How to Make a Fall Wreath, and How to Bake Madeleines. Antsy Nancy also has classes dedicated to the parent and child experience, like How to Make Hair Bows, and How to Host a Hogwarts Halloween. Yribar believes the adult only classes, like How to Make Charcuterie Boards and Sangria and How to Host an Oktoberfest Party, will inspire a more creative date night and girls' night out.
"As a working mom, the most significant experiences with my kids, my husband, my friends, my mom – were when we made something together. What we also made were really special memories. My vision for Antsy Nancy is to combine the experience of engaging with the people we love – even if those people are strangers, because we've been so starved of human interaction – with the opportunity to take a super fun class."
"How many times have you pinned a craft, or recipe, or a floral arrangement, and never found the time to execute?" asked Yribar. "Either you didn't want to go shopping for all the materials you'd need, or the project required tools and gadgets you'd never heard of? I liken our classes to the best of Pinterest. We'll constantly cull exceptional and trending projects, and we'll do all the heavy lifting. Our students just need to register, show up, and have a great time learning something new."
Yribar, a life-long learner, earned her Master's in Business Administration (MBA) degree in late January 2020. One day after earning her MBA, Yribar attended a global sales meeting and questioned a senior corporate executive about the percentage of female leaders. Yribar was terminated within the week.
Within weeks of her termination, Covid-19 changed everything. Unemployment hit unprecedented highs and finding a comparable position, proved impossible for Yribar. "I went from working 50+ hours a week and going to school full time, to doing neither." I will be forever grateful to my Aunt Nancy.
Aunt Nancy, aka Nancy Rutherford, is Yribar's maternal Aunt and an inspiration in many ways. "When I was a kid, Aunt Nancy was the fun, cool, and young Aunt. She looked just like Barbie with an equally enviable shoe and clothes collection. Also, like Barbie, she could do anything. She'd lived all over the world, had multiple college degrees, took karate, jumped out of airplanes, and drove an Alfa Romeo convertible. She's exceptionally artistic and creative too. Since she and my uncle retired and moved to Tucson, she's developed her quilting to an art form. I think she made the cakes for at least a dozen weddings, and she completed the Master Gardener Program with the University of Arizona. Is there a Renaissance Barbie? If not, they could model her after my Aunt Nancy."
"After I lost my job and the world went into lockdown, I decided to do some work around my house and asked Aunt Nancy for gardening pointers," said Yribar. Those pointers turned into months of work together, landscaping over an acre of property in the Catalina Foothills during one of the hottest, driest summers on record. "We easily planted over 200 plants, trees, and shrubs. On top of that, we built a koi pond with a waterfall, a concrete stairway to a meditation garden, a three-tier vegetable garden, planted a small fruit orchard, built two concrete patios, a raised herb garden, a cutting garden, and renovated my kid's playhouse. In the fall, we moved indoors, and Aunt Nancy taught me how to sew and recover furniture. During the holidays, she hosted a wreath decorating party and taught my daughter and I to decorate sugar cookies with royal icing."
"Every project with Aunt Nancy, she had all the tools and materials laid out and ready to go. I just showed up and she walked me through the process, step by step, to make sure I could do it on my own. At a time in my life when I felt defeated and powerless, every day I worked with Aunt Nancy I felt empowered. Successful. Proud. These experiences inspired my business and of course Aunt Nancy is the inspiration behind the company name – 'Antsy' Nancy because she's always busy; crafting, sewing, baking, gardening.
My slogan is 'Antsy Nancy does it all … and so can you!' That's how Aunt Nancy always made me feel and what I hope to replicate for our students in every Antsy Nancy class," said Yribar.
PRESS CONTACTS:
Heidi Yribar, Founder & CEO
heidi.yribar@antsy-nancy.com
www.antsy-nancy.com